Use YouTunes PHP Script to create your own web and mobile music mp3 search engine script that is providing access to thousands of songs, artists, videos, mp3 downloads and much more. Combining the power of Last.fm, YouTube, iTunes and Soundcloud Api's you can launch your own cool music and video search engine in minutes with YouTunes!
Instant Download and with Full Documentation
YouTunes – PHP Mp3 Music Video Search Engine
YouTunes is combining the power of Last.fm, YouTube, iTunes and Soundcloud Api's to give you the ultimate music website that is always up to date with the latests songs and the best artists.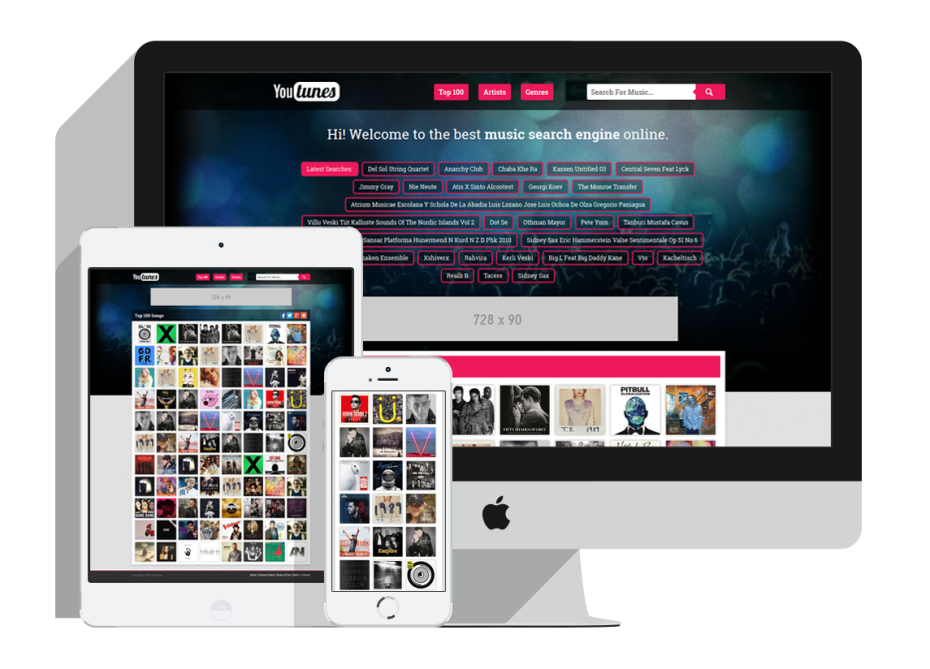 Discovering new music has never been this fun, with a clean and modern responsive design YouTunes MP3 Music Video Search Engine Script offers your website visitors to listen the latest songs and watch music videos, explore artist bio and discography, finding artists by their musical genres and related artists and much more to keep your visitors entertained.
Getting traffic is one of the most important tasks for any webmaster. YouTunes helps you with that, it is optimized for search engines by using a search engine friendly URL Structure and using Metatags, schema.org and OpenGraph microformats to make sure that indexing robots can extract all the structured data without any problem. Furthermore your visitors latest searches are being saved and converted to new pages to auto update your site with popular searchterms and keywords.
To monetize your website traffic YouTunes has build in advertisement spots on the homepage, artist, genre and songpage that you can easily manage directly from the admin panel. You can also choose to fill in your Amazon and iTunes affiliate id and that will create a link with your affiliate id to the artist at Amazon and iTunes on all the song pages.
Search Songs
Search Artists
Music Videos (YouTube)
Download MP3 (Soundcloud)
Music Listening
Top 50 Songs
Top 100 Songs
Popular Artists
Music Genres
Artist Bio
Artist Discography
Related Artists
Album Tracks
Runs on Autopilot
Html5 Player
Social Sharing
Ads Ready
iTunes Affiliate
Amazon Affiliate
Responsive Design
SEO URL Structure
SEO Meta
Structured Data
Admin Panel
Contact Form
Edit Pages
7 Templates
Easy Install
Last.fm Api Key
SoundCloud Api Key
MySQL
MySQLi extension
PHP 5.x
allow_url_fopen Enabled
Apache Mod_Rewrite Enabled